Managed Hosting
---
Enhanced Security, Automatic Backups, and Blazing Speed
Fast Servers Worldwide


TWELVETWO uses killer hardware supported by combination of two CDNs (Content Delivery Networks) to speed up and load balance the traffic to your site. Your content will be served quickly no matter how much traffic your site gets or where it originates.
Get Started

»
---
Why Settle for Slow?
Our servers are supercharged with two of the leading content delivery networks (CDNs) in the world. A slow website is penalized by search engines and puts your viewers to sleep. Caffeinate your content with TWELVETWO managed hosting.
Get Started

»
---
Security and Threat Detection
TWELVETWO proudly uses CloudFlare to boost protection of your managed site.  How does it work?  See below:
Browser Integrity
We automatically perform a browser integrity check for all requests to your website by evaluating the HTTP headers for threat signatures. If a threat signature is found, the request will be denied.
Visitor Reputation
We use threat data from a variety of sources to build a reputation for every visitor online. You set the desired security setting for your site and then CloudFlare's network stops the threats before it reaches your website. Reputation-based security provides a first line of defense for your website.
Block / Trust List
In addition to CloudFlare's automatic detection, we can easily add an IP address, IP ranges or entire countries to your Trust and Block list.
Saved Bandwidth
By stopping threats before they get to your website you save bandwidth and resources. Your server is also freed up to serve your legitimate traffic optimally.
Protect SSH / Telnet / FTP ports
We can add a layer of protection to ports like SSH, FTP and Telnet by disabling them for your root domain. Continue to access them from a subdomain of your choosing.
Collaborative Security
CloudFlare uses the collective intelligence of its community to get smarter. CloudFlare's network learns from every new attack and then shares that information with the rest of the CloudFlare community. What this means is that since CloudFlare continually learns, every site, regardless of size, makes the system smarter.
Malware Protection
Websites are empowered to inform visitors with compromised computers so these visitors can take action to clean the malware infection.
---
Automatic WordPress Backups & Updates
TWELVETWO proudly uses ManageWP to backup and upgrade our managed hosting sites.
You can rest easy knowing that your site is automatically backed up nightly. We keep 60 days of backups at all times. Should you inadvertently delete a post or page, you can restore your site to the day before like it never happened. Also, your WordPress updates are handled by TWELVETWO as well – allowing you to do your job while we do ours.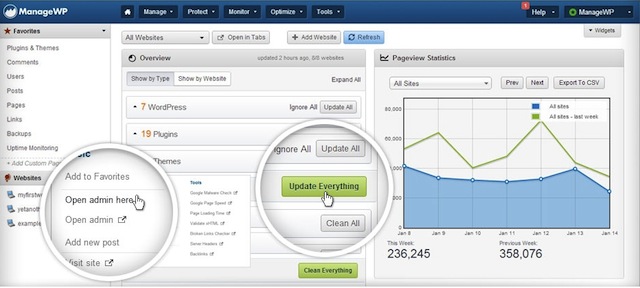 ---
Powered By
Get Started

»